Lens: (noun) a tool to look at the world in a divergent or convergent way
---
How can we look at the world?
(This wonderful video is from  BEE Environmental Communication)
Systems thinking means looking at the big picture by examining the connections and interactions between the components and the whole. There are many methods and approaches to systems thinking, but the following characteristics are consistent:
The parts of a system are interdependent and connected
Patterns and structure of the connections determine how the system works
System behaviour is emergent and unpredictable
Feedback loops control a system's dynamic behavior
The parts of systems are cyclical, not linear
Systems are complex, diverse and unpredictable
(adapted from http://www.thwink.org/sustain/glossary/SystemsThinking.htm)
Systems thinking is valuable for many reasons. When actions affect the environment or vice versa, we must think in systems to find solutions. Taking a systems thinking approach helps us understand the complicated nature of the obstacles that challenge us.
An important tool we can use to develop systems thinking is a sustainability lens. Using a sustainability lens does three things:
1. It adopts a systems approach.
2. It promotes divergent thinking and implores us to acknowledge alternative perspectives and ask questions.
3. It encourages learners to ponder issues from the perspectives of others, analyze the relationship between them, and recognize the complexity of fulfilling the needs of all creatures on earth.
There are many popular sustainability lenses. Here are some examples: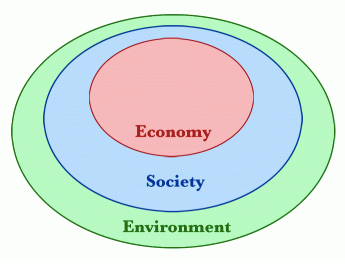 ithacainkslingers.wordpress.com.
https://permacultureprinciples.com/ethics/
http://www.nextgenna.org/integrated-sustainability…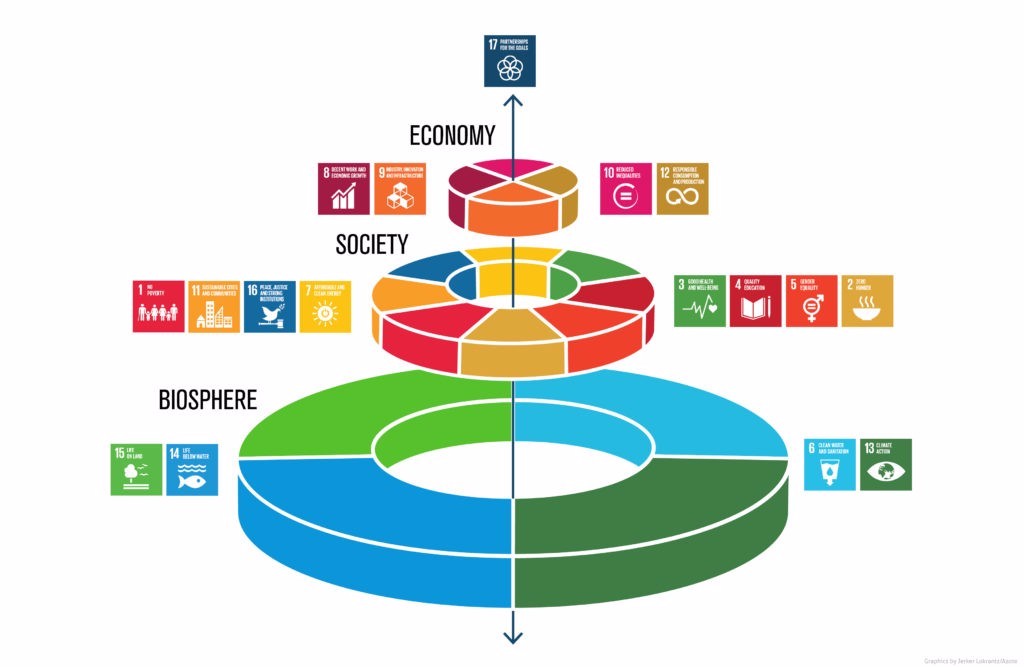 http://www.teebweb.org/sdg-agrifood/

At Green School, we often use this Compass lens created by the Atkinson Group.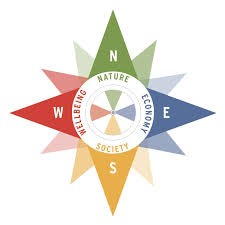 When Educating for Sustainability, a sustainability lens is used both for curriculum planning (ideally WITH students) and for unpacking new ideas and forming our questions at various points of a learning journey.  Here is a video of some High School students using this lens to think about plastic:
A sustainability lens can be used to unpack any subject or idea and find the intersectionality of the implications. From history to current events, math equasions, Science concepts, and the arts, the sustainability lens can be used in creative ways to form questions and gain understanding around the complexity of our world.  There is a global trend towards moving away from fragmenting information into subject areas and building curriculum through a more integrated approach. Not everyone has a school framework that allows for this, but using a sustainability lens can connect those dots for students and help them understand subject matter in the context of the world.  Try the following activity to ideate with students around a theme your are about to study.
Choose your lens from the examples above or from your own resources.  We prefer the permaculture ethics for younger children but use the compass with older groups.
Collectively review the ideas around each element of the lens.
Decide on the topic and divide the group into four (for the compass) or three (for the permaculture ethics).
Have them rotate around large sheets of paper or chalkboards (one for each aspect of the lens brainstorming "Implications, issues, solutions, and ideas"…
When everyone has visited each spot, spend some time turning the brainstorm into a series of big questions
Use these questions to guide your activities and research as a community of learners
Do you have a favorite lens to add to this conversation?  Please share in the discussion board below.
This content was adapted from our online teacher training programs. If this subject matter interests you, we have more resources to dig deeper.  Go to Greenschool.net to get our free Educator Pack and find out when our next cohort begins for our transformative online course in Educating for Sustainability.  Work with a group of Educators from around the world and two Green School mentors to ground your teaching practice in sustainability and creating a world that works for all.
If you can make it out to Bali, join one of our incredible Green Educator Courses at the Green School campus.  This is a life-changing experience and inspirational professional development for anyone wishing to dig deep into EFS.
Don't forget to connect to our Facebook Group and join our lively conversation.